Your New Transmission & Rebuild Pros in Highland, IL
If you are noticing the signs of transmission failure, it may be time for a new transmission or a rebuild on your vehicle. At Marshall's, we provide a variety of services and repairs for those in Highland, IL and throughout the surrounding areas. As a family-owned and operated company, we know that it's terrifying to find out there are problems with your transmission. That's why we are here, to put your mind at ease with expert repairs that keep your car on the road for longer. Additionally, we offer years of experience and a trained staff that's focused on satisfying your every need. Contact our staff to schedule an appointment with Marshall's!
The Local Transmission Repair & Replacement Experts
Whether you need a new transmission or just repairs, it's good to know the local professionals to ensure you get quality work. Those in the Highland, IL area know it's Marshall's to call for all their repair and replacement needs. With an expert staff and an expanse of experience, it's no wonder people know our name for drive-train repairs in the local area. Watch for the signs of failure, and contact our staff if you notice the following:
Transmission Slipping
Rough Shifting
Delayed Shifting
Transmission Fluid Leak
Burning Smell
Won't go into Gear
Whining or Clunking Noise
Transmission Rebuilding Services Near You
The concept of buying a new transmission can be daunting – these are expensive car parts, and it may take awhile to complete the service. In some cases, you may be saved from having to buy a new transmission with our rebuilding service.  A rebuild is completely disassembled, fixed and reassembled to help your car run like new. Our rebuilding process includes the following steps:
Complete Diagnostics
Removal from Vehicle
Complete Disassembly
Parts Repair & Replacement
Complete Reassembly
Reinstallation of Transmission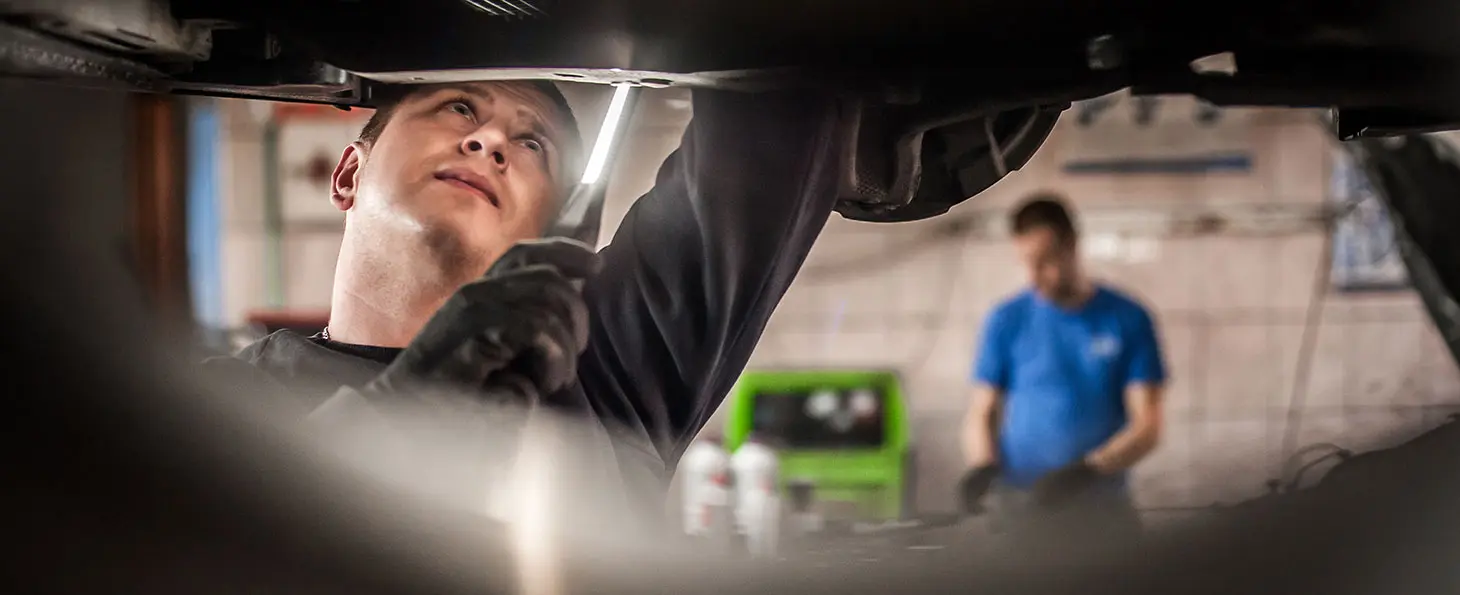 The Auto Service Experts in the Highland, IL Area
While we are proud to be known as the local transmission experts, that's not all that we can do for you and your vehicle. In fact, we offer a trained and certified staff that provides complete drive train repair. We offer the skill and experience to repair and replace all parts of your drivetrain on any car, truck, SUV, vans, etc. The list of other auto services that we provide includes:
Clutch Repair
Clutch Replacement
Differential Service
Differential Repair
Transfer Case Repair
Rear-End Rebuilds
Tie Rod Replacement
Chassis Repair
You can find our shop located near Highland, IL, and we are proud to provide service to people throughout the surrounding Metro-East communities.  Furthermore, our ASE-certified techs ensure that you get the best possible repairs for your money – we back up our work with a 12-month/12,000 mile warranty on all repairs that we do. Don't be held back by transmission troubles – contact our staff for the fast and efficient repairs that you need!
Serving the 62249 zip code and all surrounding areas